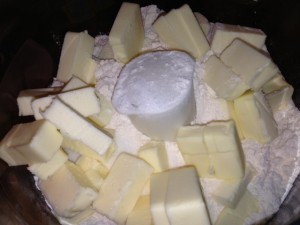 I have been using this pie crust recipe by Martha Stewart for several years and it never fails to produce flaky crusts with minimal efforts.
Ingredients:
2 3/4 cups all-purpose flour
2 tsp. sugar
1 1/4 tsp. coarse salt
2 1/4 sticks (18 tablespoons) cold unsalted butter, cut into small pieces
10 Tbsp. ice water, plus more if needed
Directions:
Pulse flour, sugar, and salt in a food processor to combine. Add butter, and process until mixture resembles coarse meal, about 10 seconds. With machine running, add ice water in a slow, steady stream through the feed tube until dough just holds together (no longer than 30 seconds).
Divide dough in half, and shape into disks. Wrap each in plastic. Refrigerate for at least 1 hour (or up to 2 days).
Makes two 9″ pie crusts.