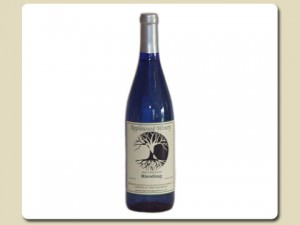 You often hear me blog, Tweet and/or Facebook about Riesling – perhaps my favorite wine.  I've sipped on this fabulous grape while touring France, Germany, California and New York State and enjoy it both sweet and dry.  What I mostly love about Riesling is its versatility – not quite sure what to pair with a dish? Chances are a Riesling would do the trick.
Living in the New York metro area, I'm really excited to attend the upcoming 2011 New York Riesling Experience at Applewood Winery in Warwick, NY.
The New York Riesling Experience is a celebration of New York's most misunderstood grape.  "Riesling is the most nuanced, thought-provoking and interesting grape." says winemaker Jonathan Hull of Applewood Winery, and host of the 2011 New York Riesling Experience.  The well-attended event takes place May 7th & 8th from 12-5 PM at the winery.
The weekend will feature food & Riesling pairings, recipes, live entertainment, special bottlings of Riesling as well as admission to the Applewood Winery tasting room with over a dozen different wines to sample.  Tickets are $15 in advance and $20 at the door and include a keepsake logoed wine glass.
For more information, visit www.applewoodwinery.com.  Groups of 6 or more must call the winery for tickets at 845-988-9292.
Tickets are available at http://2011newyorkrieslingexperience.eventbrite.com/
Please let me know, by leaving a comment here, if you plan to attend this fun event so we can meet in person.