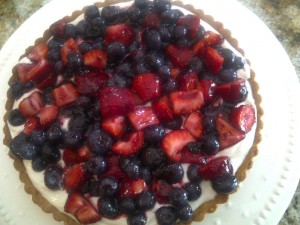 It's strawberry season here in New Jersey and I was looking for a simple, refreshing dessert to serve on a warm summer day.  I came up with this tangy tart that features a crust which can be made a day in advance and a filling that's a snap to prepare.  The addition of blueberries to the ripe strawberries makes it patriotic-looking enough to serve for your 4th of July party.
Ingredients:
1 17.6-ounce container of plain Greek yogurt
1 tbsp. honey
3 tbsps. powdered sugar
Zest of ½ lemon
¾ cup black currant jelly
2 cups of blueberries
2 cups chopped strawberries
Directions:
In a medium bowl, combine the Greek yogurt, the honey, the powdered sugar and the lemon zest.  Set aside (can be made up to 4 hours prior to assembling the tart if kept refrigerated).
About 30-60 minutes before serving the tart, in a heat-proof bowl or measuring cup, microwave the black currant jelly for 1 minute, until liquefied. Set aside.
In a large bowl, combine the blueberries and strawberries.  Add the warm black currant jelly to the berries and gently stir to coat each fruit. Set aside.
Spread the yogurt mixture over the tart crust forming an even layer.  Gently top the yogurt layer with the berries and spread evenly in an attempt to completely cover the yogurt.  Refrigerate until ready to serve.
Serves 8.
Notes: The tart crust can be made the day before if cooled then covered in aluminum foil and stored at room temperature.  Try not to assemble the tart more than an hour prior to serving to keep the crust from becoming soggy.