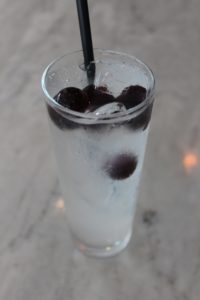 What a fun idea around the holidays – a cranberry drink! Definitely adding this neat cocktail from the fine folks at Spuntino Wine Bar & Italian Tapas to my repertoire for the holidays.
Ingredients
1 fl. oz. Van Gogh Citron (or any other citron flavored vodka)
1/2 fl. oz. Limoncello
1/2 fl. oz. Prosecco
2.5 fl. oz. White Cranberry Juice
1/2 fl. oz. Simple Syrup
4 Cranberries
1 Lemon Wheel
Preparation
1. Combine vodka, limoncello, white cranberry juice, and simple syrup into a cocktail shaker with ice. Shake well.
2. Empty contents of shaker and cranberries into desired glass – we usually use a highball glass.
3. Top with prosecco and a lemon wheel. Enjoy!
Makes 1 cocktail.