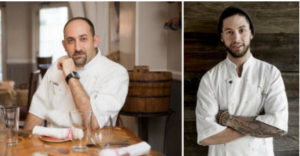 I was thrilled to attend the first collaboration dinner between Chefs Todd Villani and Robbie Felice at Viaggio Ristorante earlier this year and super bummed to miss their August 20th Jersey tomato dinner again, held at Viaggio.
The dinner will feature:
Yellow tomato gazpacho
Heirloom tomato panzanella
Lemongrass meatballs with tomato jam
Spaghetti with blistered sungold tomatoes
Pork loin medallion with tomatillo and tomato granita.
The dinner is at 5:30PM and its price is $85/person plus tax and gratuity. Reservations can be made by VISITING THIS LINK.
Viaggio – 1055 Hamburg Turnpike, Wayne. 973-706-7277.