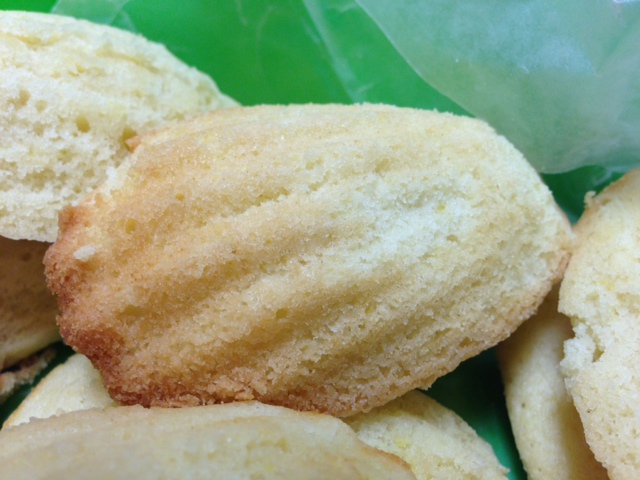 At work, it's sort of customary for me to bring treats for the guys in the warehouse during the last few days of the month as they work exhaustively to get all the last minute orders out.
This past month, Kayla, who works on my team, made scrumptious Madeleines as she's recently gotten a Madeleine pan and wanted to try it out. Below is the AllRecipes.com version she used.
Ingredients:
2 large eggs
½ tsp. vanilla extract
½ tsp. lemon zest
1 cup powdered sugar
¾ cup all-purpose flour
¼ tsp. baking powder
½ cup butter, melted and cooled
Directions:
Preheat oven to 375 degrees. Grease and flour twenty-four 3-inch Madeleine molds.
In a medium bowl, beat eggs, vanilla and lemon zest with an electric mixer on high speed for 5 minutes. Gradually beat in the powdered sugar. Beat for 5 to 7 minutes or until thick and satiny.
Sift together the flour and baking powder. Sift one-fourth of the flour mixture over the egg mixture, gently fold in. Fold in the remaining flour by fourths. Then fold in the melted and cooled butter. Spoon batter into the prepared molds, filling 3/4 full.
Bake for 10 to 12 minutes or until the edges are golden and the top s spring back. Cool in molds on a rack for 1 minute. Loosen cookies with a knife. Invert cookies onto a rack and cool. Sift confectioners' sugar over the tops or melt semi-sweet chocolate chips and dip the tips in the chocolate. Store in an airtight container.
Makes 24 cookies.