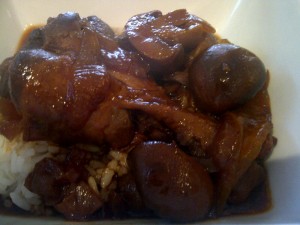 I'm a huge fan of the produce department at Target and when I discovered the chicken products by Gold' N Plump, a company that buys chicken from a group of 300 midwest farmers dedicated to the humane treatment of animals and to quality products,  the recipe wheels started turning on how I'd prepare chicken using those products.
As winter turns to spring, I'm finding myself craving comfort food yet also wanting to start BBQ season.  Chicken drumsticks aren't typically a go-to protein for me outside of fried chicken, but in this Crockpot recipe, they are tender and a super complement to meaty Cremini (baby Portobello) mushrooms and the rich sauce the long cooking process creates.  I enjoy serving this dish over plain white rice, but mashed potatoes or egg noodles would also work great.
This comforting dish is so simple to prepare that I know everyone, even those with limited cooking skills, will have wonderful results with it.
Ingredients:
1 large Spanish onion, sliced into medium rings
1 pound Cremini mushrooms, halved
8 Gold' N Plump chicken drumsticks, skin and bone on
1 tsp. each – salt and pepper
1 recipe of World's Best BBQ Sauce, or 2 cups of good quality, store-bought BBQ sauce
1 14-ounce can low sodium chicken broth
Instructions:
Place the onion rings and mushrooms in a 3 or 5-quart slow cooker (Crockpot) then top with chicken drumsticks.
Sprinkle salt and pepper over the chicken.
Pour the BBQ sauce and the broth over and around the chicken.
Cook on LOW for 9-10 hours.
Turn the slow cooker to HIGH and reduce the sauce for about 30 minutes.
4 – 6 Servings.
Notes: Chicken thighs and legs on the bones can easily be added or used as a substitute to the legs.