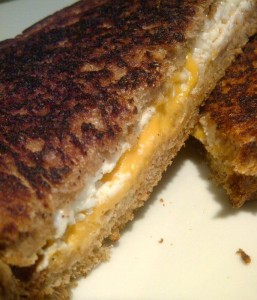 I love grilled cheeses and I enjoy experimenting with various cheeses, breads and condiments to create new versions of the old stand-by. One variation I adore is made with sharp Vermont cheddar and Boucheron, a goat's milk cheese from the Loire Valley of France.
For those not familiar with Boucheron, it is a goat cheese that has been aged so the outer layer is soft, the rind is bloomy and the center is dry and crumbly as it ages. This is not your typical goat cheese. Let it come to room temperature and it is gooey and perfect.
In this grilled cheese, I pair the Boucheron with Cabot's Shredded Sharp Cheddar as it is just great.
Ingredients:
2 tsp. mayonnaise
2 slices oatmeal sandwich bread
¼ cup sharp cheddar cheese, grated
1/8 pound slice of Boucheron, crumbled
Directions:
Heat up Panini press or a grill pan over high heat.
Spread 1 teaspoon of mayonnaise on one side of each slice of bread.
Arrange the cheddar and Boucheron on a un-mayonnaised bread slice and top with the second un-mayonnaised side of the second bread slice so that both mayoed sides are on the outside and the cheeses are on the inside.
Place the sandwich in the Panini press and grill for 3 minutes, until golden brown.  Alternatively, place the sandwich on the grill pan (still on high heat) and top with the weight of multiple pans or a pan with a 2-3 pound weight in it and cook 1 1/2 minutes per sides.
Transfer sandwich to a cutting board and cut sandwich in half using a serrated knife.
1 serving.